Midnight...and All is Well...
I should be sleeping, but we have just had a really sweet evening...and it's just hard to let those times end. Ellie did have a hard time for a while, and she did throw up, but then was able to get little bits of food in. She fell asleep for a while, then woke up and we ended up watching a "Celtic Woman" special on TV. These beautiful women singing beautiful Celtic songs lulled Ellie back to sleep in my arms. She is now sleeping peacefully while the etherial, almost haunting melodies fill the room.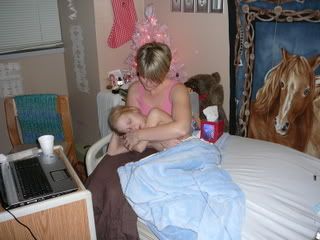 Love to all and goodnight.