Seeing the Sights of New York City
Hi everyone! Thanks so much for the sweet comments about our good news. We have had a busy several days, and I'm finally able to sit and get out an update.
On Thursday Ellie had more stem cells harvested in the morning, then went to an opthamologist in the afternoon. The doctor examined her eyes and looked at the MRI of Ellie's head. He was able to determine that 90% of the optic nerve to her left eye was completely damaged by the tumor, meaning that she will never regain the vision in that eye. This was not a surprise to me. He also showed us the MRI of the tumor in her head. It is not quite as large as it was origionally, but it is still there. He was the first person to really show us exactly where the tumor sits in connection to her optic nerves, and we were able to see with our own eyes that it is very much in the center with more growth off to the left. The doctor does not like how close it is to the right optic nerve, and plans to keep a very good eye on that. He said that with chemo and radiation, the tumor should shrink and there won't be a problem. So really, there is nothing to be alarmed about, but we just have to be watchful. It is unlikely that surgery will be necessary to remove that tumor, but he said that if it is, he would be happy to assist to make sure that her right optic nerve is preserved.
On Friday we met with the doctor who will perform the radiation on Ellie. She was very nice and explained the process to us. The areas that will be irradiated are Ellie's left adrenal gland and some surrounding areas as well as the tumor in Ellie's head along with the bones in the sinus area. All of the radiation will be very low dosages. There may be some nausea due to the abdominal radiation, but there should be very few side effects. There are, of course, some rare but possible difficulties from the radiation and that was a little overwhelming to think of. Eventually Ellie may need radiation on the tumors in her legs, but for now the doctor is hoping to wait until it is deemed necessary because that can affect her growth.
After meeting with that doctor, Ellie had bone marrow biopsies. They took 4 samples - two from the front of her pelvis and two from the back. It was a long day when all was said and done, but Ellie had surprisingly little pain. The initial pain gave way to mild discomfort, and now she is only bothered when the sites are bumped.
It was also determined that Ellie has a unrinary tract infection, so she is on 10 days of antibiotics (twice daily). This is in addition to the antiviral that she takes now three times a day - for at least a year - to keep her from getting shingles (because of the chickenpox she had early on). Thankfully we can crush the three times a day pill up and it doesn't have any taste when put in juice. This was not the case with the antibiotic (which we found out the hard way) so Ellie finally learned to swallow a pill. This was a MAJOR accomplishment!
Tomorrow Ellie may start chemo, or she may wait a day or so... we will let you know.
Last night John and I went out after Melanie and Richard came to watch Ellie. We had some fun exploring the city. We took just about every form of transportation in this city - including the little cart that is pulled behind a bicycle! We also took a bus, taxi, and the subway. Even with all of that riding around, my feet were killing me by the time we got home. (I'm sure it had nothing at all to do with the fact that I had to wear the pretty boots instead of the practical ones...)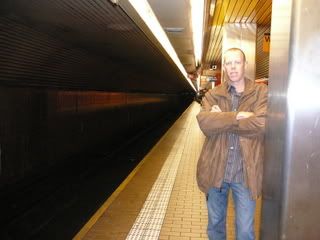 We went to the top of the Empire State Building.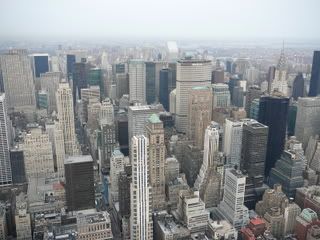 We also explored the huge Macy's. The upper floors still have the wooden escalators making us feel as if we were in "Miracle on 34th. Street" and we made sure to exit the building onto 34th. street.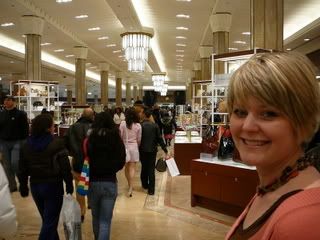 We finished the evening out with a nice dinner. It was a great time all the way around!
Today we all went out together and took Ellie out for a fun time before chemo starts. She had a blast! We went to Rockefeller Plaza and tried to be seen outside of the Today Show. We only made it on for a few seconds.
Melanie & Richard: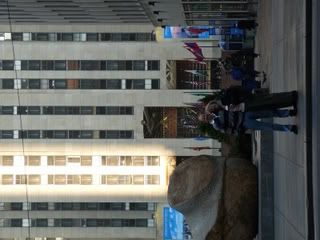 A very sweet lady told us about the American Girl Place, so Ellie HAD to go there. Melanie brought the American Girl Dolls that her girls had as small children, and Ellie has the "Bity Baby", so she wanted to get some accessories. It was little girl heaven in that place! So much to see. There was a brunch in the cafe (yes, there was even a cafe in there!) so Melanie and I went in with Ellie. (John and Rich were off running errands and such.) It was so much fun. Everything was black and white and pink, perfectly served and beautifully put together.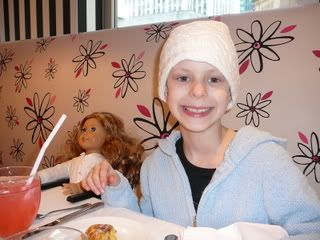 In typical Ellie fashion, she got hot and tossed her hat off, so it was quite obvious to all what the situation was. We saw the lady who told us about the store, and she bought Ellie a photo album to remember her day. She was so nice. Later a man walked up and handed Ellie and $20 bill to help with her shopping. Then a lady from the store helped in the dressing room where Ellie was trying on clothes to match her doll. She was so sweet and made Ellie feel like such a princess! She gave her all kinds of special things - acessories for her doll as well as fun activities for the hospital. It was such a wonderful experience (thanks Maria!).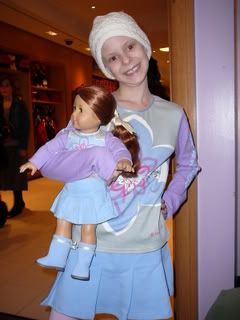 After spending hours in that store, we made our way to the gigantic Toys R Us. There is a farris wheel in the center of the store, so John and Ellie had to ride. Of course Ellie charmed the young ladies who were on the ride with her! They were very sweet and friendly to her.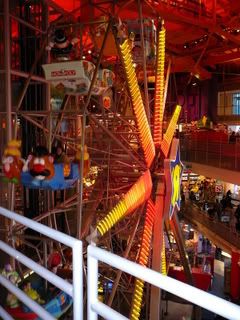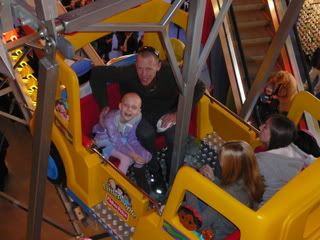 After eating a late lunch in a nice little cafe, we made our way back "home" and Melanie and Richard took off. Ellie fell fast asleep this afternoon - this from the girl who almost never naps! We wore her out. She woke up asking if the day was all a dream, and smiled so big when I told her that it really happened.
I hope that you all had a wonderful weekend. Thanks for all of your love and prayers!