Photo Journal
I know that Loretta gave you an update this morning, but I was able to get over to the house for a shower, so I wanted to get you some pictures. We shouldn't be in the PICU for very many more days, but I thought it might be nice for you to imagine where we've been "living" for this past two weeks. (Ellie will still be in the hospital for some time, but she will transfer back to Memorial Sloan Kettering once she is stable enough.)
A look at the door and nurse's dest from our corner of the room. Each room holds three beds and two to three nurses. We have seen a number of different patients come and go in our room.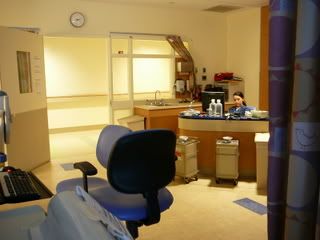 Looking at our corner of the room from the front door. (Ellie's bed is just behind the nurse who is sitting at the computer station.)
A night shot from our window overlooking the East River and Roosevelt Island.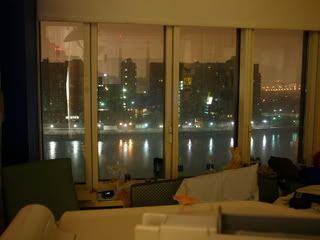 Ellie while still intubated... and heavily sedated.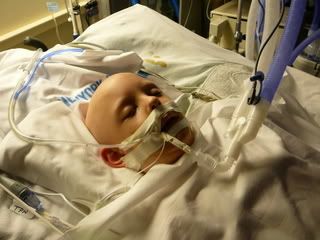 Ellie post extubation (rather, third extubation)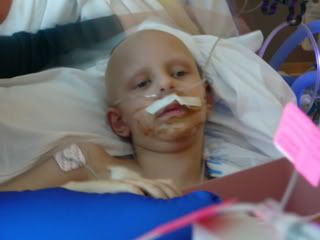 Shift change - John on his way out and Belinda on her way in... or vice-versa (I can't remember). Yes, that is a folding scooter that John's holding - he's our "runner" and boy can he get places fast!
Snuggles last night - just before Ellie completely lost it and began hallucinating and thrashing. As you can see, she was more awake than I was. And she didn't sleep for the entire night. She eventually calmed down, but this morning she was talking without making sense and not responding to questions. The methadone times and dosages are still being "tweaked" today, but she is at least much calmer in her ramblings. As long as she is not afraid or anxious, she can be pretty entertaining at times. The black and white headband I was wearing in this picture was very troubling to her this morning. "It's all about black... and white." I asked if she liked it and she said "no" and when I asked if it was scary she said "yes." She has, however, decided "I'm ok with red." But "My head hurts from too much white!" And then this heart breaking declaration: "Been through...(long pause)... too much."