Happy Valentine's Day!
John and I went out last night for sushi to celebrate Valentine's Day. We had a great time and enjoyed seeing Vinnie - the owner/sushi chef. He's great! When we came in he asked if we wanted to order something or if he should just put a little something together. We opted to trust Vinnie's judgment and were not disappointed! The man is just plain talented. I thought I'd describe what we ate for the sushi lovers out there... One of the rolls was the freshest Hawaiian swordfish you can imagine with avocado and tobiko (flying fish roe). The other roll was white tuna with cream cheese, mango, and citrus tobiko. Pure Heaven!
John and Ethan let me sleep in this morning, and when I woke up, I found them dressed in matching flannel shirts! John had a beautiful card waiting for me, along with a little book of quotes. We have been buying each other miniature books ever since we got married, but it's been years since either one of us has thought about that. I loved the fact that he remembered. John also got Ethan a really cute card with a lion on it that lights up. Ethan LOVED that! And this year, I did absolutely nothing.
Bad
wife. Thankfully, John understands...
Here we are on the top of Mount Aneas last summer (We were wearing mosquito nets on our heads because the bugs were so terrible.):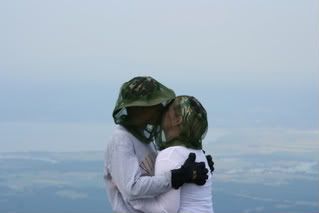 So, I hope that you are all having a lovely Valentine's Day. Go and hug someone you love!