Trip Pics
I'm so sorry that I haven't posted all week. I feel like I've been busy, but I can't even figure out what I've been doing. It just went by quickly for some reason.
I finally have photos of our trip for you!
This was the only time we saw the sky on our trip over to Seattle: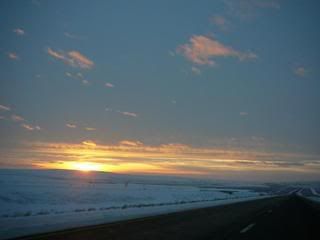 It quickly went back to this:
Our friend, Noelle, took us all around to show us the sights: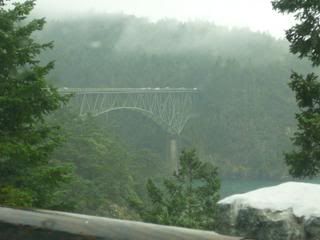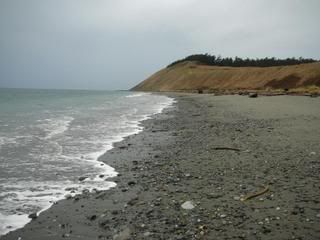 We got to ride on a ferry!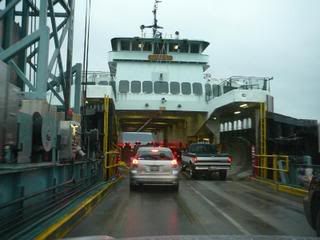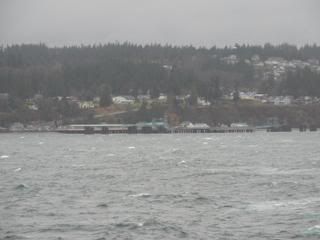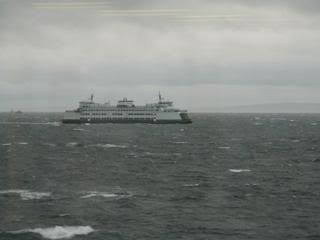 You will notice that there are no photos of Noelle and me... While John was hopping all over the ferry snapping pictures, we were sitting very still, facing forward, trying not to toss our cookies. While we didn't exactly kiss the ground when we embarked, this was still a welcome sight: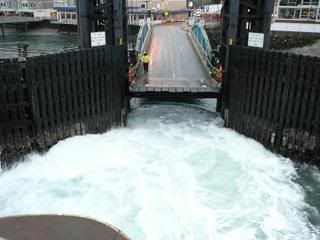 Another sight that we aren't used to in Montana: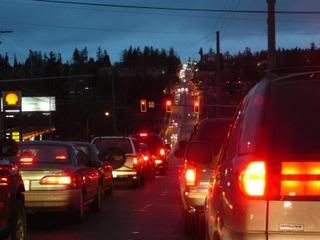 For supper, Noelle took us to an Ethiopian restaurant! The food was so good that I have been craving it ever since. I don't know when or how, but someday I WILL find a way to have Ethiopian food again!!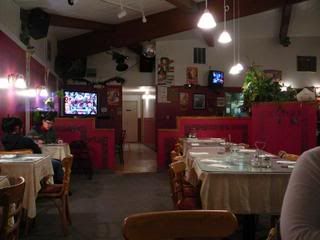 The next day, we hit downtown Seattle. It reminded us afresh of how much we love New York!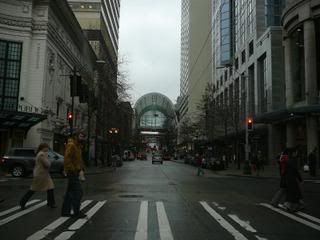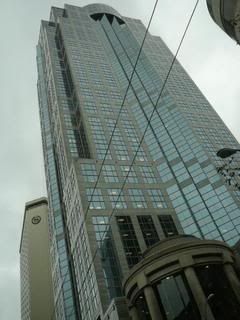 Noelle and me in front of a lovely little flower shop:
Some of you may remember this famous marketplace... (When we got back to Montana, I went to the Salvation Army and found a beautiful little print of a water color paining that was done by an artist who has a studio in this marketplace. This sign is on the print! I spent a whopping $1.50!)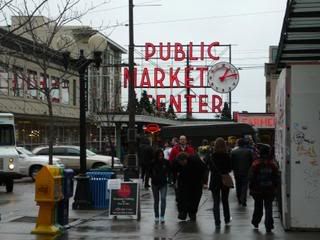 Think Sleepless in Seattle (among other movies)...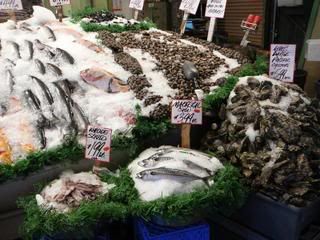 John wandered around taking pictures while Noelle and I did some shopping.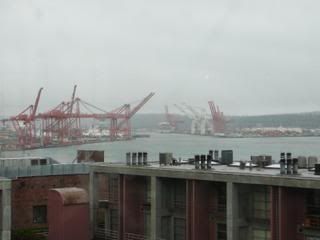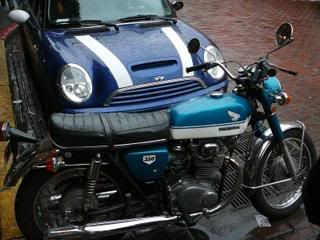 I put in that last picture because it just makes John so happy. The next one is much more to my liking!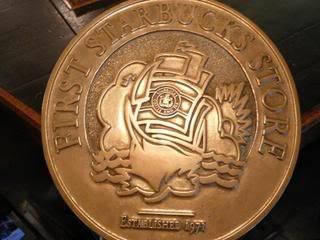 Oh yes, we went to the very first ever Starbucks - established the year before I was born. This was what the store looked back back then: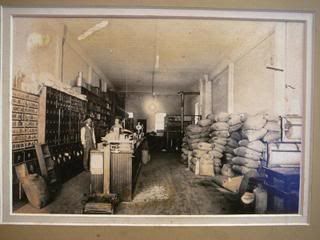 John and Noelle in a much updated version of the store... and yes, I bought a mug.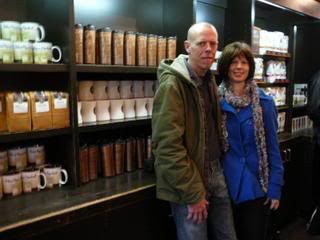 We were too hungry to make it to supper time without a snack, so we ducked into this little Russian bakery for some delicious pastries. Mine was stuffed with meat and mushrooms... yummy!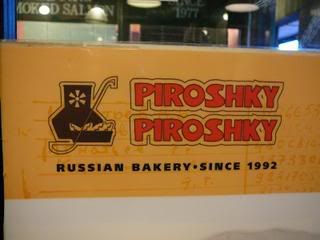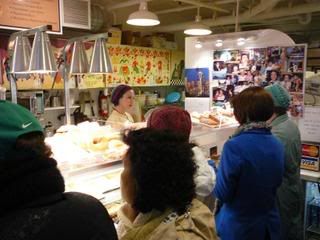 It was getting dark and raining, but we couldn't leave without at least snapping a couple pictures of the Space Needle.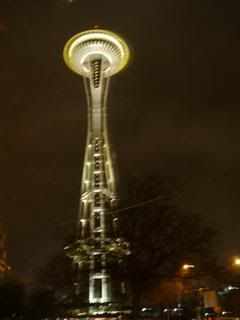 For supper, sticking with the international theme we had going... we chose Japanese. We LOVE sushi, and there is this wonderful restaurant that actually has an all you can eat buffet. Wow. We've never experienced that much variety in sushi because we always have to choose a couple of rolls. It was incredible. Whenever I eat sushi, I can hear Ellie's voice in my head. She used to muster up a most superior sounding tone in her voice and stick her little nose in the air and say "Aunt Mellie and I do
not
eat food that is looking back at us!" She remembered a story we told her of a sushi place in NY where our order came to the table with a fish head as a garnish. And another time when her Uncle Richard had a whole fish on his plate. Ellie and Melanie never let us forget that! I am pleased to say that there were no fish looking at us in this restaurant. While I would have never admitted it to Ellie, I can do without my meal staring back at me...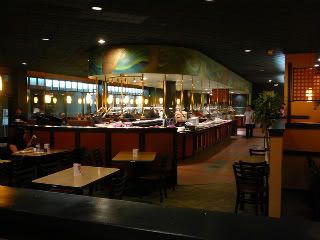 I don't have any photos of the next day. We had a relaxing morning at Noelle's house, then went to a couple of stores that I don't get to go to here... Whole Foods and Trader Joe's (yes, Tricia, I finally got to go to one!!) We got some groceries and headed back to Noelle's to cook dinner and play games for the evening. That whole day was our "gift day" because we were supposed to be traveling home, but got stuck due to flooding. I must say, we thoroughly enjoyed our gift!
The day after that, we got an early start for home. The weather was clear and gorgeous!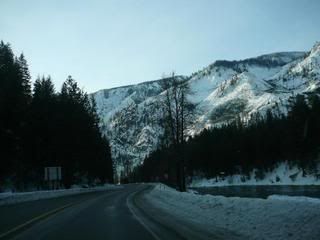 A quaint little town in Washington - Leavenworth. All of the buildings were German architecture. We got off the interstate to drive through the town because it was so neat!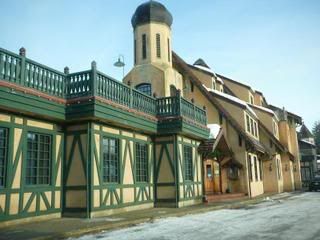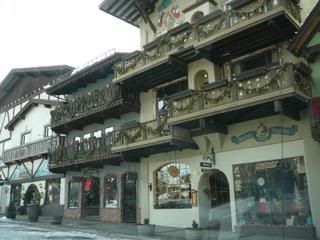 It was fun to see the changing landscape as we drove. We couldn't see any of this on our first trip because the visibility was so terrible.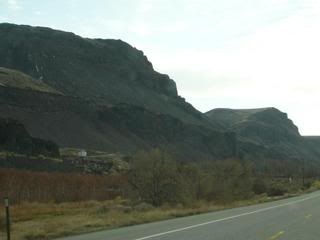 Back home... we didn't need a sign to tell us that we were back in Montana. The snow kind of spoke for itself. :-)