Warning... high teardrop rating
I want to tell you up front that this entry is pretty heavy - particularly towards the end. I know that some people check this at work, and others just would like to have a little forewarning. I also wanted to let you know that you may want to preview this before showing your children. There will be a picture of Ellie after she died. It is not gory in any way, but it may effect people in different ways. It could be very appropriate for children, but you as the parents will need to decide how you want to deal with it. I promise you, I don't do this to torture you. (Although I have been accused of taking great pleasure in making people cry!) But you have been there with us through this, and on this anniversary, I would love to walk you through our footsteps.
So... John and I have been having this ongoing discussion of sorts. Today is only December 17, but technically it is the one year mark because Ellie died on a Wednesday. But when you get married on, say March 19 (which we did), you always celebrate your anniversary on March 19, not always on a Saturday. The real question is, what do you do when you each have a different preference? My love of special occasions leads me to say that you just have to celebrate it twice!
So, in honor of my sweet husband, and his weekly Wednesday reminder at 7:43 p.m... we have some special things going on today. When John and Ethan were out the door on their way to school, I slaved over my hot toaster oven and fixed cinnamon rolls. O.K., so I took the package out of the freezer and unwrapped it. (You
know
I don't bake!) We enjoyed our special treat while we watched the snow fall outside. It was so good of God to give us that today! We were sitting at our Christmasy table. (Do you recognize a couple of adorable little boys there in the background Aaron? Some of you may have read Aaron's comment. His son, Eli, the boy on the left, was diagnosed with stage IV NB and currently there is no evidence of disease. Yay!)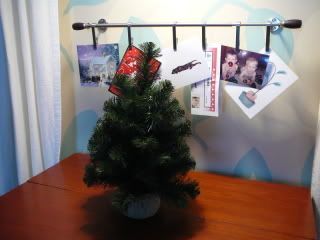 And then I spotted something. Do you see it?
Apparently Ethan thought the tree needed a little decorating. :-) I love that little boy!
This evening, at 7:43 p.m., we will light a special candle. I love the thought that even though her physical life stopped in that moment one year ago, her wonderfully unique Ellie light will burn for all eternity. I also love the symbolism of light as God's reflected glory. Your comments are all proof that my little girl reflected the glory of God in her short journey.
We will hold the drawing for Ellie's elephant after we light her candle this evening.
Not long ago, I realized that I never gave you all the full story of how Ellie died. I was not intending to hold it back from you, but in the moment things were just so raw. A part of me was also unsure if it was even appropriate at that time... I think that perhaps I was just saving it for such a time as this.
On Wednesday, December 19, 2007 God chose not to grant Ellie's request to die in her sleep. Even while my heart broke, God's loving wisdom was clearly evident as He gave Ellie – and us – what none of us knew that we needed.
At one point, in the middle of that long day, Ellie began having trouble breathing. John and I had been hovering around Ellie for hours, stroking her and whispering words of love into her ears. This photo was from during that time. She used to always stroke her ear when she was tired.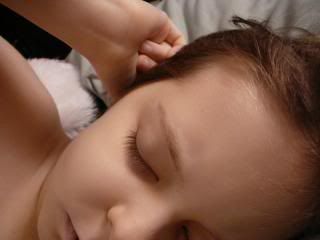 It was hard to tell if she even knew what we were saying, but one time after John had whispered "I love you," Ellie didn't even open her eyes, but whispered right back "I love you too, Daddy." We had been afraid of panicking her by telling her outright that she could let go, but as Ellie began to show signs of getting really uncomfortable, John and I told her how proud we were of her. We assured her that she had fought hard, but that she didn't have to keep fighting. We told her that we would be o.k. We let her go.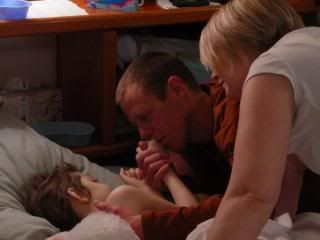 But Ellie didn't die. The drugs took hold, and Ellie fell asleep as her breathing evened out. As she slept, we noticed that one of her hands was opening and closing against her stomach. John slipped his fingers into her hand, and she gripped it tight.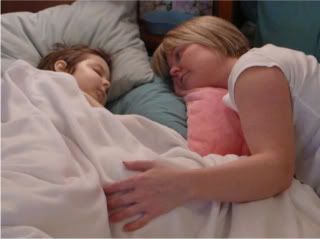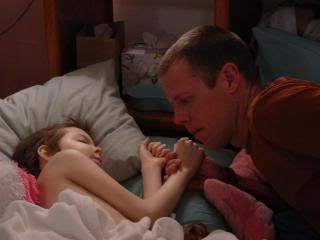 After a couple of hours, Ellie awoke with a start. Her eyes were wild and she was hallucinating. We gave her a remedy, and Ellie's eyes cleared. Then began the most unnerving, profound, and powerful phenomenon – Ellie let go. But she did it in typical Ellie style – with fight and with spirit. She would have bouts of screaming – not in pain, but almost in anger. She would give a mighty shriek and yell "I'm not going to do this for the rest of my life!!" or "this is torture, and I'M NOT GOING TO DO IT ANYMORE!" Her strength finally gave out, and Ellie lay on her side, facing her daddy. His was the first face that Ellie saw when she entered the world, and it was the last one that she saw as she left. I was exactly where I wanted to be – next to her ear. The last thing that Ellie heard was my voice telling her to run to Jesus. And she did. Ellie gave up her own heartbeat in exchange for the heartbeat of God.
You know, all along, I knew that even though we prayed that Ellie would live, it might not be what would happen. I understood the concept that we don't always get what we ask for. But when it came to Ellie's desire to die in her sleep, I could think of no reason why God shouldn't give her that. Once again, God whispered ever so gently to my broken heart that He truly does know what is best for us, and most importantly, for Ellie. The words He used, and the voice were in the form of Loretta. Something that she said during the Montana memorial service has reverberated through my being ever since. "Cancer did not steal Ellie's life away from her while she slept." Wow. We had the privilege of watching our daughter release her own life.
John took this picture while she was resting: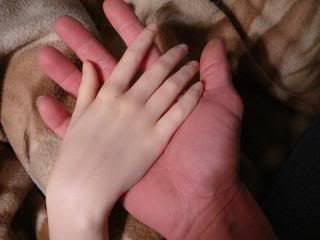 This one was taken after she died. I'm sure you remember my entry on December 20, 2007 about John weeping over Ellie's feet.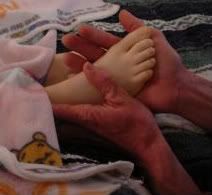 Also found in the December 20 post is the description of Ethan's grief over Ellie's body.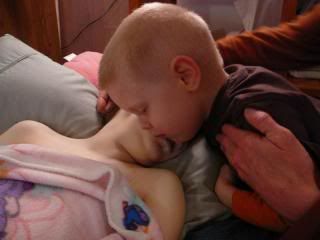 We chose to have Ellie cremated. Before we took her body to the funeral home that night, I dressed her in this beautiful Chinese robe that my sweet step sister Jenn brought to us when they adopted their daughter Emma. We sent "Procedure Bunny" along for one final procedure...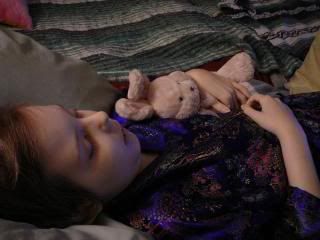 That night, I called Jenn to tell her that Ellie had died and that we were having her cremated in the China robe. We talked and cried for a little while. Jenn was just leaving work and it was quite late at night in Florida. She went home that night and saw that her three little girls were sound asleep. When she tiptoed in to kiss them goodnight, Jenn found her older two, Mady and Libby, snuggled in their Chinese robes! Jenn asked her husband Jim why on earth they were sleeping in those robes because, in her words "they had to find them waded up in a corner somewhere since they hadn't even touched them in quite sometime." Jim said that after he gave them their bath, the girls found and put on those robes and would not take them off, even to sleep. He had no idea why. Jenn said that the next morning, the robes were tossed back into the nether reaches of the closet or wherever they had found them. That story just blew me away. God is so good to bind us to our loved ones with an invisible thread that has the ability to erase thousands of miles as if it was nothing. This story touched me to my very toes and will stay with me forever.
I don't want to leave you with that last picture of Ellie. It is how she looked when she left this earth. But we picked the photo on the header of this blog because it reminds us of Heaven. That is how we see Ellie in our mind's eye. Vibrant, glowing with joy, and more alive than she ever was in her nine short years in our arms.
This is how we see her now... on top of the world!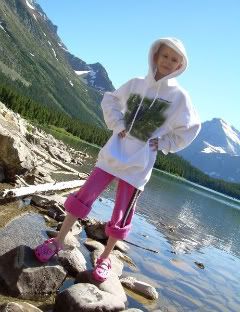 My life will forever be blessed by the time I had to hold her and love her.
Please scroll down to the previous post for details of our on-going blog giveaway. For those of you who have already left comments, feel free to comment on this post again... just remind me that you already entered the giveaway. Thanks. :-)
Also... please keep checking back. There will be at
least
one new post everyday through Friday. I have something very special planned for tomorrow!