House photos
Thank you for your patience. I now have photos for you! :-)
Our new living room: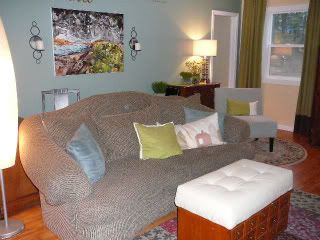 John's desk is behind that divider on the right side of the picture.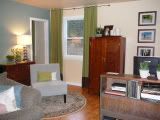 John's little area: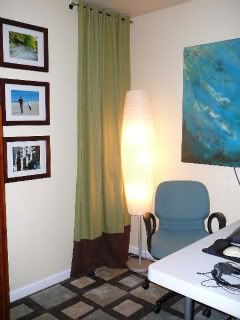 My new vanity area, because a girl's gotta have a place to make the magic happen... (you remember, our only sink is in the kitchen and it only has a small round pull out mirror behind the curtain)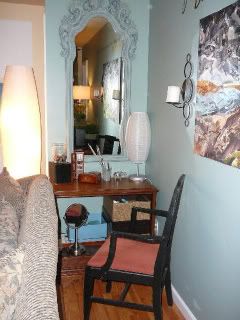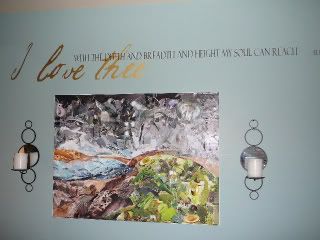 I decided to put all of my unfinished (and some un-started) pictures on the wall because it was a huge wall, and storage space is lacking. I figure that this might give me some incentive to keep working on projects.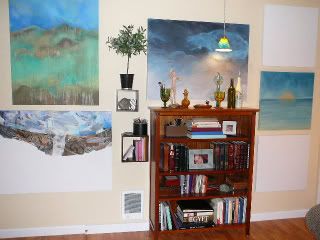 The TV will be across from the sofa, next to the front door, but the entertainment center is not put together yet - so no picture.
Ethan's bedroom:
His bed is sitting where my desk used to be, and the dresser is where our TV used to be.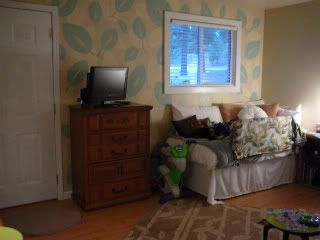 This is where my collage used to hang. The blank canvas will have a large picture of Ethan and Ellie on it. I've already ordered the photo, but it hasn't arrived yet.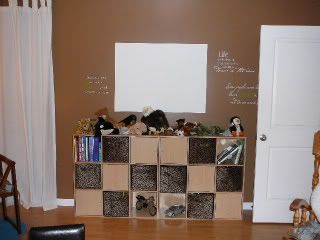 This is Ethan's little art/homework station. He loves it. My dad made that rocking chair when I was born, and I rocked Ellie in it when we brought her home from the hospital. I am so happy to have it in Ethan's room.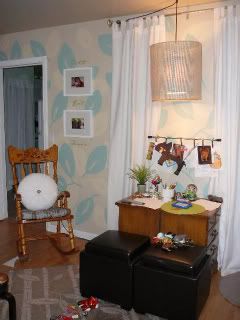 We decided to keep the dining table in Ethan's room because he can spare the room.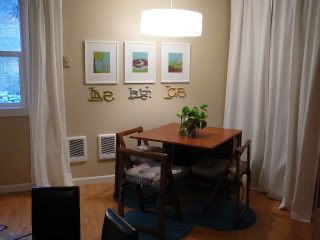 This was the best overall picture of the room I could get. Ethan has his little chairs and tables in the middle of the room, but when not in use, they sit under the window.