Heaven's where the heart is...
Ethan had a wonderful birthday! We let him open a couple of presents first thing because his party wasn't going to be until after supper. He got a remote controlled truck (just like Papa's actual truck) from Mom and Gary (Papa). He also got a tee shirt, and a matching one for Daddy. Those two gifts made his day!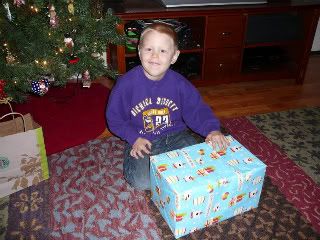 The new guy had to be introduced to Lightning McQueen. As you can see, Lightning was not exactly impressed.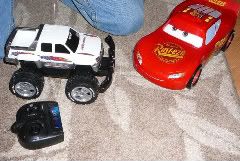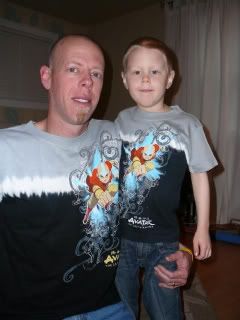 In the evening, we went over to Mike and Reni's house and my friend Jen came over with her two kids, Bailey and Codey, as well as Bailey's friend Abby. Ethan opened more gifts and we had cake. Then the kids ran around the house playing with the truck. They took turns driving the thing and whoever wasn't driving was chasing the truck and jumping over it. I don't think I've ever seen kids have so much fun all together with one toy! Even though all three kids were much older than Ethan, they played with him so nicely. I think that part of the evening was more fun for Ethan than the presents.
In the background, from left to right: Abby, Bailey, Codey, Mike. Ethan's "new sister" Josie (La's golden retriever) is on the far left. :-)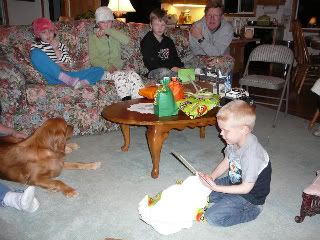 Although, speaking of presents... over a month ago, Ethan was watching me sew a pillow out of Ellie's clothes and he asked me if he could have one for his birthday. I made one for him, and today I heard him tell someone that the pillow was his favorite gift! That truly spoke volumes to me about where his heart is at these days.
Ethan's pillow:
A closer view...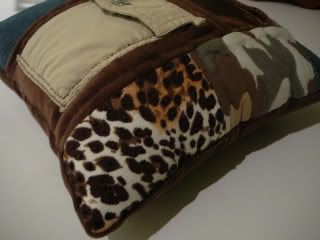 Inside the pocket I put the one fabric that Ethan specifically requested. It was from a blouse that Ellie looked so cute in. (It was the same blouse that I saw in the store on a rack when we were back in FL for her memorial service.)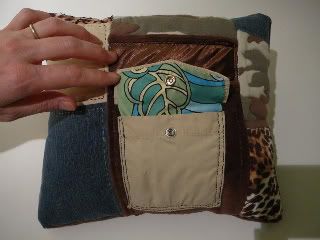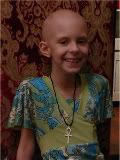 The back is from a pair of Ellie's sweat pants. The satin stripe was down the side of the leg.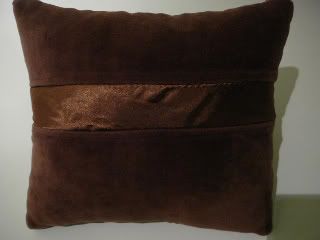 After the party was over, just before bedtime, Ethan was very quiet. (If you have ever met Ethan, you
know
that's unusual.) When we questioned him, Ethan said "I just miss Ellie" and walked out of the room. I was so glad that we had a small family party instead of a big "kid" party with just kids his own age. Bailey and Codey have such an ability to fill in those empty places that Ellie left.
So, Ethan's birthday was special. But those special days tend to highlight the ache... How much we miss stands out in such sharp contrast against the happiness. Also, as we experience some "highs", an equal and opposite "low" tends to follow. I have felt this principle at work in my own life, and now I am observing it in Ethan. Because of this, and because Ethan seemed like he might be coming down with something, we let him sleep in and stay home from school today. The sickness didn't develop, so he will go tomorrow. I'm not sorry we kept him. I think we all needed to just hang out around the house today.
I leave you with a photo of my two great loves: