Winner #1
I just have to tell you all, this giveaway started for me as a fun way to involve everyone in the one year anniversary of Ellie's death. (O.K, I just re-read that sentence and had to laugh because I'm not really sure that a person is supposed to pick a "fun" way to commemorate someone's death. I do know how wrong that sounds. Still, I have to stand by that statement.) I simply wanted to do something "Ellie" - not only for her and about her, but something she would have truly been excited about. Giving stuff away is probably the best way that there is to remember that funny little girl. But in true Ellie spirit, it's killing me that I can't give something to everyone!
Do you know what has happened? What was supposed to be something that I wanted to do for you, turned into the very thing that I didn't know I needed. As this sad and difficult day is approaching, what I needed was to hear from you. So thank you. Thank you for being there for me during this time. For telling me what you love and miss about my sweet Ellie. For sharing who you are and where you're from. (I sometimes look at the stats of the hundreds of people who check in daily and wonder who you are. What your story is. I can even tell where people are logging in from. There are a few that I can guess at, but often I have to ask "who is that?") And of course I love hearing how this journey of ours has touched your lives. This gift that you have given me, and are giving me, is one that I will never forget. It is the perfect balm to this sad mommy's heart. THANK YOU.
We will now pick a name from the box to be our guest blogger on Friday, December 19. Before we pick, I want to let you know what I've decided to do. I have a little something to give this person. I have a copy of the pictures from yesterday's post to send to them as well as a small, unframed drawing of Ellie's. Should you decide for any reason that you are not comfortable with being the guest blogger, I will still send you your little gift. But instead of re-drawing a name to be the guest blogger, I will have you choose one from yesterday's commenters. If you read the comments and felt like you would like to hear more from a certain person, you may choose that person to be the guest blogger. Of course, I do hope that you will want to write something yourself, but I also understand that not everyone will enjoy doing that.
Ethan is holding the box of names. He is now stirring it all around. He is about to choose one. Picking...
Drum roll please... and the winner is...
Edith "Mema" Tyler, from South Carolina
Congratulations, Mema. Please email me with your address and let me know if you accept this mission! (see below for my email) I so loved your comment - it really touched my heart. I would have posted it here, but I didn't want to steal your thunder for Friday. Should you decide not to be the guest blogger on Friday, I will definitely post it for all to read!
For those of you who are just now joining us, there are two more drawings. On Wednesday evening, we will be drawing a name out of the box to win this 5x7" framed and signed piece of Ellie's art. (It is a high quality color copy of the original.)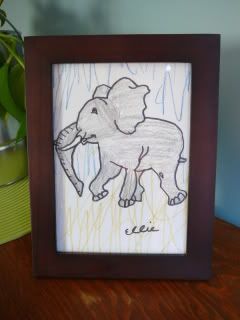 On Thursday evening, we will be drawing a name out of the box to win a small quilted pillow made out of Ellie's clothing. (See previous post for photos of Ellie in those clothes.)
Please keep checking back. There will even be other special things happening on this blog tomorrow, Thursday, and Friday!
How to enter:
Leave a comment.
Please give your name, where you live (City and State, or Country - obviously for security reasons, do not leave your full address and you don't need to put your city if you're not comfortable with that. I just thought it would be fun to hear where people are visiting from.) and a brief description of how you know or have heard of Ellie.
OR
Send an email to: seskees at hotmail dot com
(replace "at" with "@" and "dot" with "." and run it all together). I know that some people have had trouble commenting, so I want to make sure that you have an alternate way of reaching me. When I receive your email, I will copy it and put it into the blog comments.
***IMPORTANT REMINDERS***
Please do not leave anymore comments on the previous post. Please leave your comments on this and/or future posts. It will keep me from getting confused.
All of the previous commenters' names have been left in the box for the next drawings, so you do not need to comment more than once to be in the running for a prize. But if you really want to leave another comment to say something, just remind me that your name is already in. :-)
And finally, remember everyone is eligible: family, friends, foes, countrymen, as well as out-of-the-countrymen and other-countrymen.