Bald is Beautiful!
Sorry for the lapse in posting. We've been working on our house almost non-stop for days. Our bed is finally out of the living room - SO glad about that! Now I am going through the piles of stuff in the laundry room. That room will be the next project...since Ellie got our room, and our new bedroom was built, our clothes have been in Ethan's room in rolling clothing racks. Our new room doesn't have a closet, so we plan to make the laundry room into one family closet - complete with washer and dryer. I'm thrilled about this idea...it should make laundry even easier!
As for more important news...Ellie has been gradually working up the nerve to let go of the last clinging strands of hair. It was a tough decision for her, but once her mind was made up, she wouldn't rest until I cut it all off. I absolutely LOVE it! She looks so adorable. Ellie has had moments of bubbling joy interspersed with tears of grief when she looks at the different face in the mirror. It is all part of the process...somehow this makes it so much more REAL. The morning after I cut it, I used a beard trimmer to clean up my quick scissor cutting job. Ethan watched the whole thing in fascination, and kept saying "I want to do that too!" I ignored him because he's four...and two minutes later he was likely to change his mind. (Ethan didn't know yet that John was planning to go to the barber shop to shave his head - John told Ellie that he would when she first learned of her cancer.) Finally Ethan got my attention. He said "Mom! Do you know why I want to do that too? Because I love Ellie!" When I told him that his daddy was planning to go bald too and asked if he really did want to do it, he said "yes!" and never looked back.
That afternoon we all trooped into the barbershop - camera in hand. (Ellie in a mask and hat.) Ellie kept her hat on until John and Ethan were finished. She shyly took her hat off, then basking in the glory of having her own "tribe" who looked just like her, she walked out into the sunshine for all to see. In the days since, I've seen her grow more confidant with her new look and now she doesn't seem to feel different at all. And in case you're wondering...I had about five minutes of serious consideration on whether to shave mine too...but I chickened out. I had never planned on doing it, but seeing the rest of my family all together supporting Ellie gave me pause...and then I snapped out of it. We have already established on this blog how my hair adds to my sanity, and I just can't afford to loose my sanity right now!
John in phase 1 of the process...this picture is on at Ellie's request!
The three muskateers: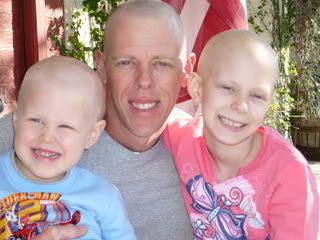 Two peas in a pod: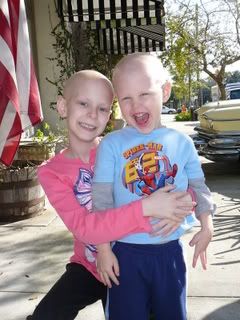 My sweeties: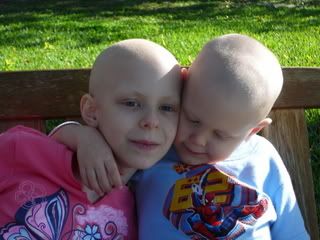 Fun in the swing: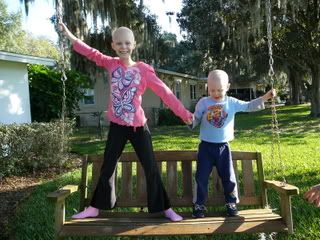 Daddy and his little ones: