Getting some TLC at the Hospital
Ellie gets some much needed blood! (Notice the red line in the foreground...)
We are now safely ensconced on the Hematology/Oncology floor of the hospital. We moved up to a room in the middle of the night...more doctors to see...more questions to answer...settle into the room. So, 5:00 a.m. I finally rested my head on the pillow. I did get some sleep despite the many interruptions, and John and Ellie were able to sleep as well as can be expected. Sometime in the early morning hours Ellie was given a platelet transfusion, and she is currently recieving the red blood. In the twelve hours between checking Ellie's blood at the clinic and re-checking at the hospital, her hemoglobin dropped from 6.8 to 5.4 and her platelets dropped from 24 to 16. The poor little girl was like a wet noodle by the time the transfusions started. She is already perking up a tiny bit. Her fever was still up in the night, but it has started going down this morning.
My mom is coming this morning to help out with Ellie and allow me to get a nap - wonder of wonders. (In between hospital visits, Ethan has been keeping me up at night.) Pretty soon when people pass me in the halls, they will need to politely avert their eyes from the lady with the glazed, bloodshot eyes who is sitting in the corner rocking and mumbling something about being so very tired...
A couple of pictures from Ellie's last round of chemo.
Ellie and Uncle Michael doing math homework: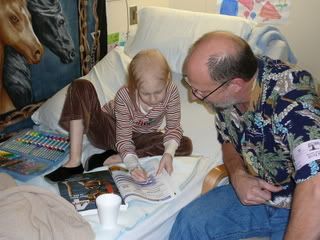 Ellie's favorite mode of transportation - IV pole: