A private room... at long last!
Last night we arrived in the P.O.U. (Pediatric Observation Unit) at Sloan Kettering. The silence in our room was almost deafening! We had a wonderful night's sleep - Ellie included. We have a large private room and only one machine that beeps occasionally. It's like being on vacation! Unfortunately the vacation will be short lived. We will be in the main pediatric wing of the hospital possibly as soon as today. There are a few much coveted private rooms there, so we shall see if we are one of the fortunate few when the time comes.
Today will be a busy day - and has been already. Ellie has sat up in a chair, and done some breathing excercizes, and now has even taken her first walk in about 20 days!! Right now she's exhausted from all of the activity, and is sleeping peacefully. We are hoping that her fever will stay down - she's been fighting one for so long... Tomorrow it's possible that one of her chest tubes will be removed.
And now, for some photos of the past 24 hours! (The tape on Ellie's face is holding the tube that goes from her stomach to her nose. They are hoping to remove it today if she can keep clear liquids down.)
Ellie was able to pet a beautiful golden retriever named Mila yesterday while we were still in the PICU.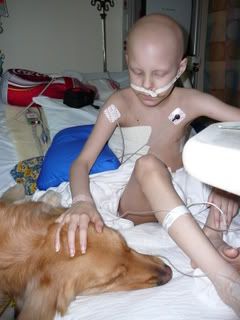 Loaded up and ready to leave the PICU - thank you to all of the wonderful nurses and doctors who cared for Ellie these past 2-1/2 weeks!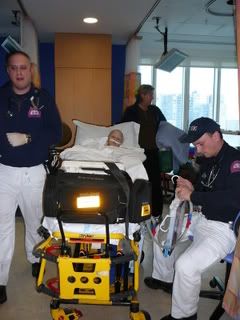 As we rolled away, I asked Ellie if Aunt B could ride in the back of the ambulance with her since I get car sick and this is the face she gave me... needless to say, I rode in back!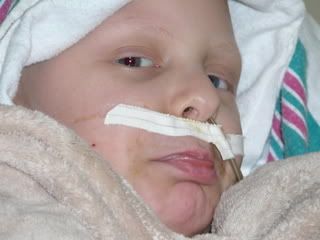 Tucked into the ambulance for our 1 minute ride across the street.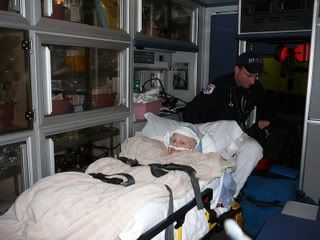 Sitting up in a chair for the first time this morning in the P.O.U. She and John were blowing bubbles to do breathing excercizes and she was cracking up!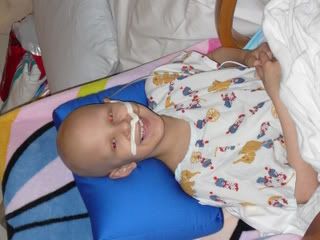 She's on her feet!! (A might unsteadily to be sure, but up none the less.)
Thanks so much for all of your prayers and love these past weeks. It has made all of the difference to us. Without your support I think that I might still be tucked in a corner somewhere curled up in the fetal position... Ellie still has a ways to go towards recovery, but for now we are breathing a small sigh of relief to have come this far. I am trying to live in the moment and not look too far ahead towards the possible setbacks, work of recovery for Ellie, and treatments to come. The grace of God is sufficient for this day, and this day in particular is a wonderful one! (Oh yes, and I now have my cell phone and computer back... can't you see my happy dance from there? My technological blackout has ended!)