As Promised... Some Photos...
I've been wanting to get some pictures out of our Mother's Day weekend. Hopefully you will be able to see how much fun we had!
This is Ellie with Shelby - her new friend from the Lukemia and Lymphoma Society who is running the New York Marathon in her honor. This was taken on Saturday, their first day of training. Ellie and John followed along on their scooter. (Sorry, I don't have pictures of that...)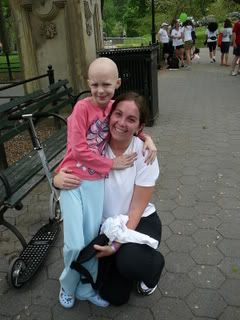 And here is what one month in the hospital will get you... gorgeous fingernails! Ellie's grew so long while she was down, and I didn't mind leaving them because without hair or pierced ears a girl's gotta have something to make her feel kind of feminine. My cousin Shasta has always had the most beautiful hands - even as a child - that I've ever seen, and I'm so pleased that Ellie seems to be taking after her!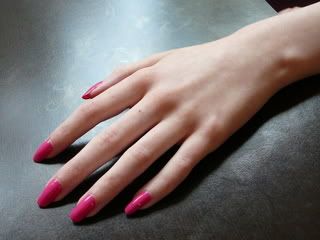 On Sunday we went to the Chelsea Marketplace - a market that John and Belinda stumbled upon some weeks ago. John wanted to take me back there, so we went for Sunday brunch. It was the neatest place! Everwhere you looked there was a striking mix of rough, raw materials and sleek industrial elements. The whole effect was beautiful. (Cece and Tricia... these pics are for you!)
You enter an unassuming doorway on the street into this: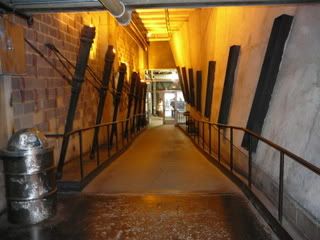 A water feature: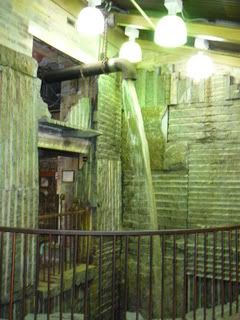 Most of the floors were polished cement that at times broke away to old wooden floors. Occasionally you would come upon seats that were chunks of large stone that had been allowed to stay in their rough form and then polished to a high gloss.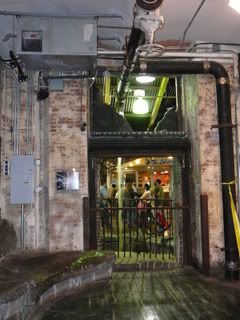 We ended up eating brunch at one of the little shops in the Marketplace. The food was wonderful - very gourmet - but I must say that I've never eaten in a place like that. It was actually a store. You literally had to pass racks of clothing and tables of housewares - dishes, throw pillows, etc. to get into the seating area. It was like eating right in the middle of an upscale boutique, and even though the effect was supposed to be very chic, I had to stifle the impulse to laugh. You can see in this picture how just beyond our table is a table of houswares and beyond that a clothing rack. Like any self-respecting female I had to do a little browsing through the clothing after brunch. One pretty little dress caught my eye... it was a mere $700. You'd better believe that I double checked my hands for any traces of lunch before I even touched another item!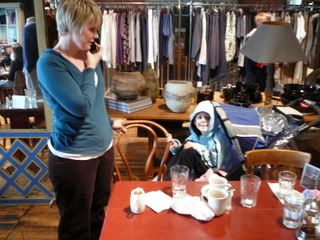 From there we went to the aquarium. Ellie and John had been there before and they wanted to show me some of the highlights.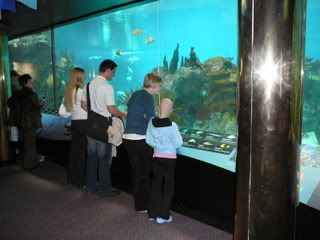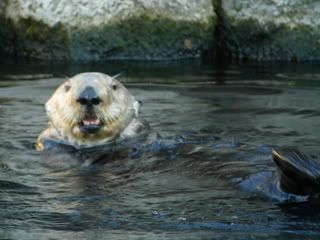 Then while we were on Coney Island, Ellie had to put her feet in the ocean. I manned the stroller up on the boardwalk while they took off down the beach.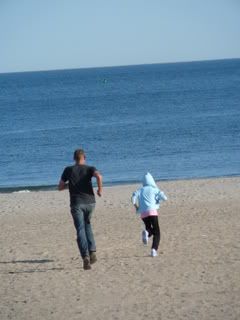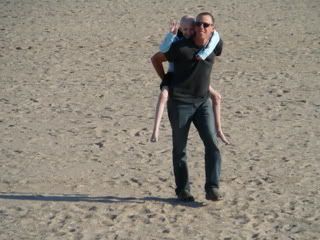 And then on to some rides. John and Ellie had a blast on the spinning rides. I did manage to take her on the teacups. Then they got me on the farris wheel. Under normal circumstances I can steel myself and get through it (I'm afraid of heights) but this was no ordinary farris wheel. It had an inner circle of cars that zip along a track. I found out the hard way that panic and nausea are a very bad combination. I had to close my eyes and pray for the end. I have never ever come so close to throwing up on a ride. Ellie and John laughed and talked through the whole thing. We don't have pictures of that ride. I do not want proof that it ever happend.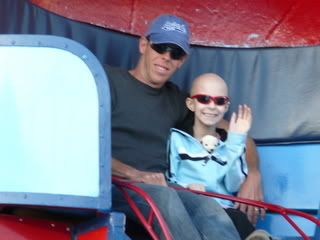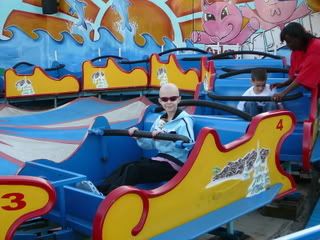 And finally, we ended the evening with hotdogs at the famous Nathan's. The one on Coney Island is the origional Nathan's. Of course that made it so much cooler! :-)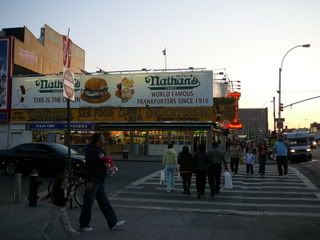 We made it home late that night after an everlastingly long subway ride, tired but oh so happy.