Random thoughts...
Well, I can't say that I'm feeling much better, but it has been nice to be able to sit back and let others take care of the kids - especially Ellie. It's been a good break for me to not have to even do all of the thinking about what to feed her, etc. So feeling poorly has it's perks. :-) Bless Loretta's heart, she's been doing enough thinking and working for three people. Reni has been cooking and Mike's been doing lots of cleanup. (Reni and Mike are John's aunt and uncle - John's dad is Loretta and Reni's brother.) John's grandma has been faithfully folding any and all laundry that I take out of the dryer - and there've been many loads... John's cousin Lauren also lives here and when she's not at work she helps feed and entertain Ethan and run errands. So as you can see I've been rather pampered these days! (And you'll have to forgive the small twinge of self-satisfaction that I get when I see how many people it takes to keep our little family going - I KNEW there was a reason why I feel so tired when I'm home alone with the kids!) There is some other family in the area that we can't wait to see. I keep praying that we can all just get over this sickness so we can get down to the serious business of having FUN!!
John has been helping with the kids - often getting up with Ethan so that I can sleep in with Ellie. He has also been running around planning forays into the mountains. He's taken some drives around to look at scenery on the days that have been too soggy to do much hiking. When John's eyes roam to the mountains I can almost see the same look that a horse gets when you dangle a carrot just out of his reach. My sweet husband is absolutely driven to explore.
And speaking of husbands... just the other day John and I went out for lunch. I didn't feel great, but it was so nice just to be out together. We sat in a booth of the restaurant and simply enjoyed each other's company. It was a great big booth, and as is his way, John sat down beside me insead of across from me. As I am left-handed and he is right, we are able to eat an entire meal holding hands or with his arm around me. John commented that he almost felt guilty that given all of the stress and strain of the past year, we could be so happy. And that's the plain and beautiful truth of it - God has just blessed us with such joy in each other. It's funny because we really don't have a lot in common as far as interests and activities, but we love to enjoy a meal together and talk a while. Sure, there is still the daily work of a relationship - choosing to be kind to each other in the little things; him choosing to act in a loving way towards me; and me choosing to respect him... But when it all comes down to it, we truly feel blessed by God in that the joy comes easily. I still have a vivid memory of the first time we came home from the hospital with Ellie last October. She had been in the hospital for a month, and I had slept at the hospital for the entire time. Finally we were home and the kids were tucked into their beds. Once we were settled into our bed for the night, I started crying and as John held me, I admitted that I felt like I should be happy, but that somehow we would never be able to be happy again. Feeling joy at a time when life as we knew it was unravelling somehow just seemed wrong. And then something wonderful started to happen. The little joyful moments over the months have begun to string together in such a way that joy has become second nature...
And now on to pictures!
Back in New York:
Michael and Kathy in my favorite little French restaurant that's close to the hospital.
Michael and our little buddy: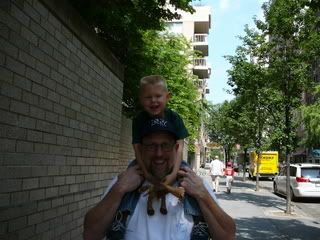 In Montana:
The gorgeous view from Mike and Reni's home.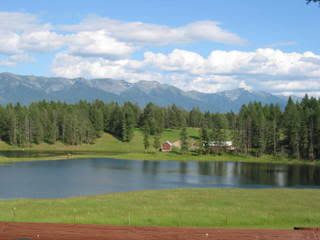 The view of Bigfork and Flathead Lake from Jewel Basin.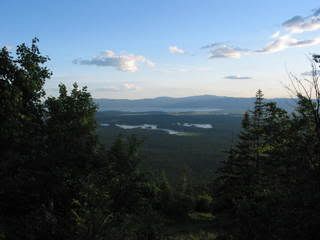 A few of the many sweet moments since our arrival in Montana: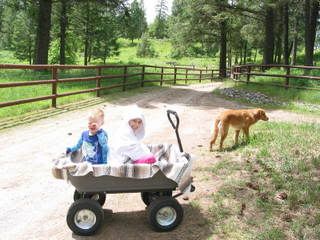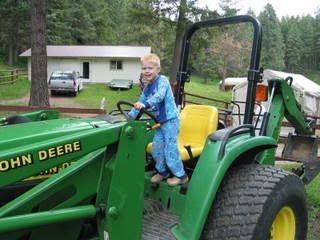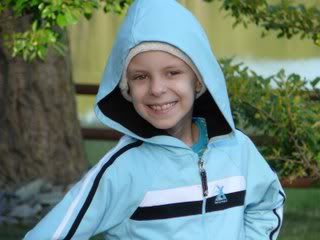 And so... goodnight dear family and friends. Even in our lovely time of rest and recharge we are thankful for your love and prayers. You are never far from my thoughts.