I'm an Aunt... again!
My brother and sister-in-law, Chad and Janeene Mankins, have welcomed a new baby boy into their family! Ezekiel Wayne was born on Tuesday in Orlando, Florida, and the proud parents were able to bring him home from the hospital on Thursday. Chad and Janeene are missionaries in Papua New Guinea, and have just arrived home for a short furlough to adopt their second child. God allowed for things to happen incredibly fast. They arrived in the States in October, and already have the baby in their arms! We are so happy for them.
Baby Zeke: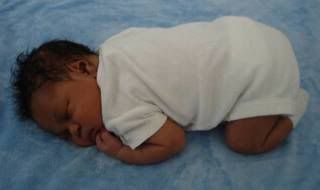 Proud big brother, Elijah: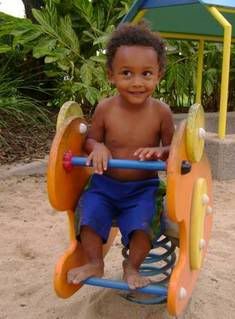 One happy (and multi-tasking) Papa (Gary):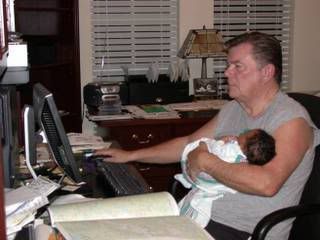 My Grandma Jean holding another great-grandchild: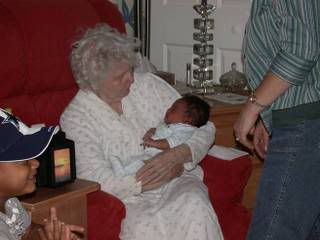 I also have some sad news. On the very same day that Zeke came home from the hospital, my grandpa (my dad's dad), Chuck Mankins, passed away. He had recently had surgery on an aneurism, and had gotten pneumonia. I was so hoping that we would have the chance to see him again now that we live closer (he was in California), but things have not settled down enough with Ellie for us to have made the trip. All of our love and prayers are with the rest of the family: Grandma Irene, Uncle Steve, Aunt Sharon & Uncle Jerry & Shasta, Uncle Mike, and Grandma Lois. We miss you all so much, and all of our love is with you right now!
As far as things go on the home front...
John started work on last Monday. He will be in training for about two weeks, working Monday - Thursday, and then switch to working Friday - Sunday. He is enjoying the work so far. On his days off, John works on our house. We are still not living there, as we cannot take Ellie in until the paint fumes and such, have dissipated. And there is still a little more painting and caulking to complete. John is basically working non-stop, except to sleep. I'm sorry I don't have house pictures yet. I had wanted to get "before" pictures so that you could make sense of what was done, but I didn't (the story of my life). Now the only thing to see is walls and floors. But that might be interesting if you want to see the colors. Other than that, it's not terribly fascinating. I will for sure get pictures of it with all of our stuff in... when there's life to it. The basic structure was 36 feet long by 25 feet wide. Loretta lived in one room that measured 25' by 20' and had a small bathroom and closet that poked over into the unfinished side of the building. When John's family was here for three weeks, they finished off the unfinished 25' by 16' side. Loretta will live in that room, which now measures about 18' by 15'. Then Russ, Stan and John put up a couple of walls on our side to make a small bedroom for the kids and a kitchen/shower room. (The bathroom is literally a small room with a toilet.) We will then have a bedroom-living-dining room in the main portion of the house. Our living area for the four of us is about 520 square feet, which includes the bathroom and kitchen/shower that we share with Loretta, and the closet, kid's room and main room. But please, no pity - we have brought some of the comforts of home with us, including our plasma screen TV, comfy sofa, extremely comfortable king sized bed, and a heated toilet seat. We received merciless teasing over the toilet seat when we lived in Florida, but I can guarantee that we will be the envy of the neighborhood here in Montana! One of the projects that is left to complete is our bed, which will be a loft structure with desk area underneath. Our TV will hang off the foot of the bed. Loretta has a table that folds up small and holds 4 chairs inside the base that we will put in that room as well. I'll definitely provide pictures when it's done. The kid's room is so small that there is only room for beds, so John will also custom build those. We will have toy storage built in. There will be a single bed top bunk, and then the lower bunk will be a full sized bed. It takes up the room, but I think it will be worth it to have a spot where we can lie next to Ellie when she needs us in the night. Our bed will be difficult to get her on if she's having trouble with pain. And I am thrilled with the kitchen. It's a small kitchen and it has a shower in it, and the kitchen sink is the ONLY sink in the house, but it's going to be beautiful. The colors are gorgeous - very pale apple green walls, with light teal blue/green lower cabinets and white counter tops. All of the hardware is brushed nickel and there will be white shelves on the walls instead of upper cabinets. (Your dream kitchen, Tricia, only much smaller.) The bathroom, which is right off of the kitchen is painted the same teal as the cabinets. The rest of our side of the house is painted a light tan/gold (to reflect as much light during dark winter months) except for one wall in the living room/bedroom. It is a slightly darker version of the teal in the kitchen cabinets. Once the room is filled in, that gold and teal will be the main colors, but it will be accented with chocolate brown and apple green. The floors in the main part are a pergo-like laminate and look a lot like a light cherry wood, while the kitchen and bathroom are tile. (Russ, Stan, John, Mike and Reni out-did themselves with the amount of work that they completed in three weeks!) We are getting SO excited about finishing up and moving in! Home sweet home... it's been too long.
After a wonderful pain-free week, Ellie has begun having pain again. This time it's in her shoulder and spine as well as some in her legs and head. It does seem to be getting worse. I just wanted to let you know so that you can be praying for Ellie's comfort as well as wisdom for us. I promise you that we are doing EVERYTHING in our power to help Ellie stay comfortable and happy. Please rest assured that we spend all day, every day caring for Ellie's needs, and we are working hand in hand with her Pediatrician, who's only goal is to keep Ellie comfortable. We take her in for blood work on Monday, so we will have a much better idea of how things are progressing. I am sorry for the sporadic updates. I will be sure to write if things are different, so no news means that there is no great change for the better or worse. Our days and nights are so busy right now between the work of day to day living and sleep-deprivation. As always, thank you for your faithfulness to love and pray for us.