Update
I'm sorry I haven't been on in some days. Things haven't changed much... I thought I'd show you a picture of Ellie that was taken today of her opening a gift from her Uncle Dick and Aunt Gayle. She loooooves Egypt and has been wanting a calendar for her room, so it was a perfect gift!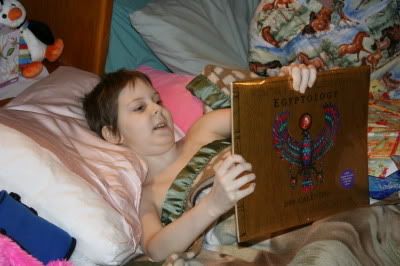 You can see that Ellie is really starting to retain fluids in her face and neck now, and her coloring is completely pale. Ellie is still on miraculously few drugs - and low dosages. One is a steroid (thus the fluid retention) and the other is a narcotic. Together, the two manage Ellie's pain, but keep her lucid and happy. Ellie is not on IV fluids AT ALL. All she needs to hear is that we can access her port and hook her up to fluids, and Ellie will start guzzling water like it's going out of style! Our day today has been fairly quiet, with most of the excitement and anxiety revolving around bathroom issues. For Ellie it is a side effect of the narcotic, and for Ethan it is a side effect of being... Ethan. The two were frighteningly similar today. Oh well.
I seemed to fight off the cold I thought I was getting until last night. I now have a small cough and have gone hoarse. So I have kept my distance from Ellie today, and have worn a mask for small visits. I'm hoping to beat this thing very quickly and not pass it on to everyone else in the house.
Thank you all for your encouraging comments and emails. We appreciate all of the love and support so very much!