Round Five Begins!
First thing this morning, Ellie was given started on her chemo. They always pre-medicate with anti-nausea drugs, so it has taken all day for Ellie to feel the effects of the chemo drugs. Her stomach started hurting this afternoon and now she's mostly just tired and not feeling so well. Tomorrow morning she will have the second round of drugs.
When we got word yesterday that we could come in to the hospital, we threw caution to the wind and took Ellie out for some last minute fun. We have been so careful about germs that Ellie has had to remain home or at grandparents houses almost exclusively. She had been eating so well and was feeling strong, so first we took her to a movie. We made sure that she wore a mask until we took our seats in the theater...we went at a time when there were few children around and sat as far away from people as possible. Later we went to a store (fully masked, of course) and she did a little shopping... We went home and packed up our stuff as quickly as possible (leaving the house looking like a hurricane had just blown through) and then left for a fancy dinner out before arriving at the hospital. We had just discovered this wonderful restaurant where they use organic produce and free-range meats. It was the perfect treat for Ellie, and still something that fits within the healthy standards that we have set for her diet. We had such a blast. Ellie savored each and every moment.
Ellie walking through the mall...all cute in her little outfit!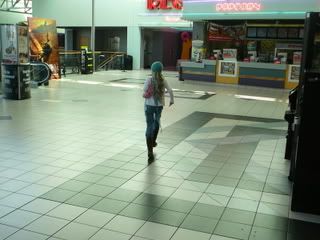 Ellie and Mommy enjoying our evening. (She was so happy that she could not stop hugging me!)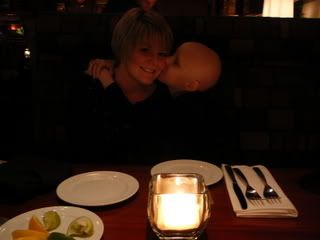 I know this picture is blurry...low light and all...but she had just tasted the amazing dessert and I thought that she would come undone with the wonder of it all. Her eyes rolled back in her head and she almost melted into the booth.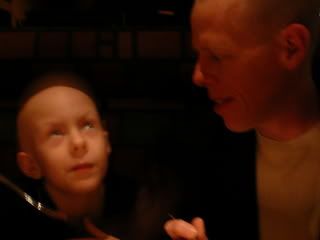 Thanks so much for praying...we will let you know how things go day by day...