I am nature girl...
... hear me roar!
So yesterday I'm told that everyone's going on an outing to a river to collect rocks for Ellie and hang out in the fresh air. (We try to take Ellie on carefully selected outings. We only take her places with limited human contact right now as her white count has dropped and her succeptibility to infection is greatly increased. We also must be very careful about sun exposure, so on this particular outing we made sure she was continually in the shade or covered by hats and clothing.) I was given the option to stay home alone (which I love doing) or go along. No pressure. Really. "We'll make sure that there's shade for you, Grandma, and Ellie and we can set up an umbrella for you to sit under and relax" they say. (It does not escape my attention that I am in the same catagory as an elderly woman and a small girl with cancer.) Ok, that sounds pretty benign. I can do this. After all, I am tougher than I look. I grew up in the jungles of Central America and can balance in a moving canoe - standing up - for pete's sake. So I go.
We arrive at the banks of a gorgeous river with rock-strewn banks. There was no shade - anywhere! After careful positioning of the trucks and umbrella for shade, we set up. The kids and dogs had a blast and I enjoyed sorting rocks. Reni, Grandma, Lauren and I stayed with the kids while John and Loretta had some fun walking a trail around the bend of the river. Eventually the kids got tired and wet and muddy, so we cleaned up, packed up and readied to go.
Now this is the part in the story where what I was wearing plays a part. It was a hot day, so I figure I'll be the most comfortable in a tank top and a breezy cotton skirt. (I don't wear shorts... ever.) By the time we were ready to leave I noticed that my arms and shoulders were very sunburned (mostly from riding in the truck) not to mention that I had just wretsled two grouchy, dirty children into dry clothes. I was tired and hot and wondering why I had agreed to come. John had just rinsed my feet off and I was sitting in the truck waiting for the final load-up when I heard a buzzing sound and felt a sharp sting on my upper thigh. Oh dear - bee up the skirt! I hop out of the truck and start jumping and flapping my skirt - I'm sure, all the while hollaring something very entertaining. Satisfied, I finally hop back into the front of the truck and let John rinse my feet... again. I hear a buzzing sound near the seat of the truck, so I quickly move over to the passenger side. It follows me. I don't see a bee. But there's something wiggling in my skirt. BEE UP THE SKIRT!! I throw open the door and start flapping the skirt again. Ugh. Like I said... I don't like getting nature on me.
So... was it worth it? Take a look at the following pictures. Oh yeah, it was worth it.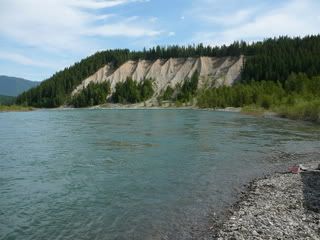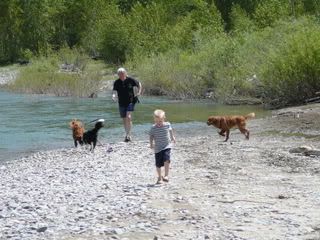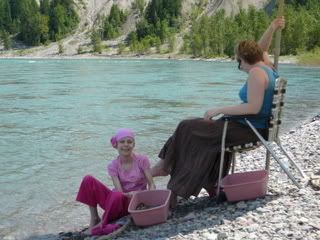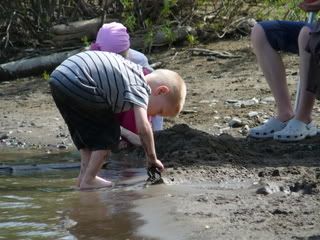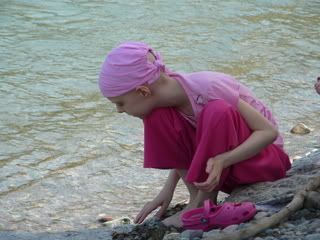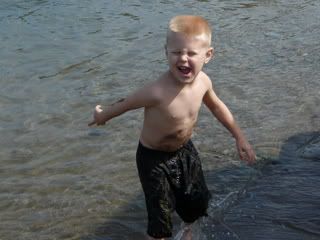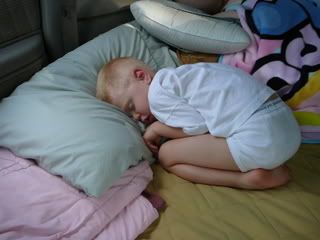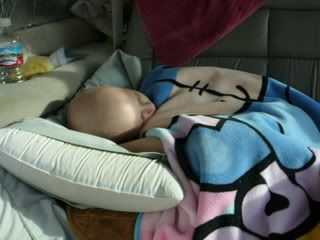 (Aunt Sharon - I will definitely get a movie clip on of Ellie and Ethan! I tried to take some the other night but I don't think they turned out well. I'll get a nice one. Love you!)