My life as a country girl...
So the weirdest things seem to happen when I'm in my going-to-the-airport clothes. (If you care to take a walk down memory lane, you may recall the great burro fiasco of '07 - July 31, 2007, to be exact!)
For your enjoyment, I have included Ellie's illustration of my altercation with the burro and the bee.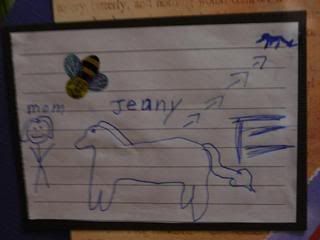 We have had three sheep boarding on the property, eating the front pasture. We installed Ellie's memorial stone on the hill in that field on Thursday evening (which is another story unto itself, as we needed the help of a neighbor and his tractor to place the stone), and the sheep decided that it was their own personal playground. They even went so far as to lick the stone! The lady who owns the sheep agreed to come and pick them up. For those of you out there who have never seen what it takes to load three sheep into the back of a pickup truck... let's just say that it is not easy! Apparently sheep do not just naturally jump into trucks on their own volition. And if you think that seven people have a good shot at getting three sheep into said truck, you would be wrong. While I was getting ready for the airport run, the seven people were tromping all over the field, chasing those crazy animals from pillar to post. (I had not volunteered yet because I figured/hoped that my help would not be needed.) I finally realized that I should at least check on the progress. I walked out onto the driveway in my pretty red ballet flats, good jeans and going-to-town blouse. I was just in time to see Mike and Reni leave for the airport and watch Loretta slip and fall as two woolly creatures dashed past her. And the words that I did not want to hear were said: "Sarah, get in here. We need you." (You know they had to be desperate to say that!) I had one wistful thought towards home where my practical shoes were resting... and then I climbed through the fence.
What followed was about an hour and a half of following/pushing/chasing two little sheep from one side of the pasture to the other, and back. Stan was in the truck with the one ewe who had been unfortunate enough to be caught. Belinda, Loretta, Irene (the lady who owns the sheep) and I went after the other two. Loretta (aka, the sheep whisperer) was the only one who could get close enough. She would coo and cajole, and ever so slowly sneak closer. Until they would break away and find a way past the ranks. We would lunge left, lunge right, and then helplessly watch as the animals dashed past... all the way to the other end of the field. Ugh. This scenario went on and on and on. Finally, Loretta made a lightening fast move and grabbed the wilder of the two sheep. Together, La and that sheep rolled top over tail, down the hill, in a blur of white wool and blue jeans. I think it was the funniest thing I've ever seen! They came to a stop, right end up, La still firmly holding on to that animal. I was so impressed. Loretta blinked a couple of times, like she had just awoken from a bizarre dream. Belinda and I just stood there, stunned, not knowing what to do. Until Loretta found her voice and yelled "COME OVER HERE AND HELP ME!" Belinda and Irene took over from La, so that she and I could take off after the other sheep. This one was younger and much calmer than the other, and she headed right over to the ewe who was stuck in the truck. (Loretta's brilliant foresight paid off in a big way.) We finally pinned her between the truck and fence. La helped me figure out where and how to get a good hold on the wool, and while I pulled, La pushed... and into the truck she went! My foot only got stepped on once - by a nice hard hoof. (Are they called hooves? I don't know.) Stan drove the truck over to the other sheep, who complained loudly as she was hefted in with the other two tired animals. Irene made sure to get them into the shade and gave them some food and water before the journey home. Poor Loretta is battered and bruised all over! And I am pleased to tell you that the ballet flats made it through unscathed, as did my good jeans. (I might have shed a tear over the jeans. All I could think of as I was crouched down between the bumper and tire of the pickup, wrestling the sheep's head out from under the truck, was that I had better protect the jeans!)
Last year, there was a similar sheep wrangling adventure, but all I did was walk down the driveway to herd the sheep towards the truck. Ellie stood at the top of the driveway writing and drawing the whole thing in her journal. This is from that journal: