Happy Birthday to Me!
I am 36 years old today!
I awoke to my cell phone playing "Happy Birthday..." because I am just that corny.
Then I found the birthday card that Ellie made for me last year. I hadn't looked at it in a while, so it was like receiving it all over again. I miss her so much!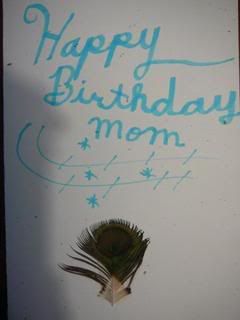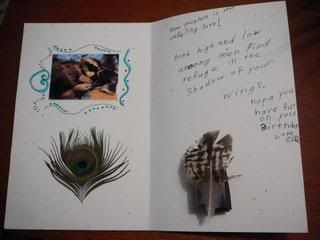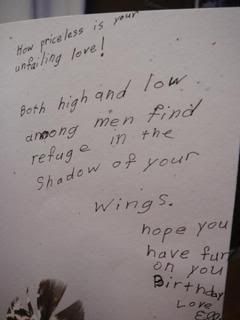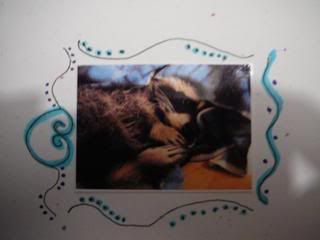 What card doesn't need a pop up feather?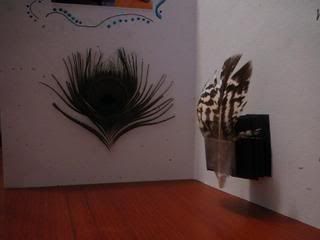 Then I got some coffee and turned on the computer to find all kinds of e-cards, text messages, and facebook birthday messages from friends and family! THANK YOU.
Today I plan to go to Bible Study this morning and Ethan's school open house this evening. In the in between time I will be painting the outside of my house! We've been working on it for days and we aren't anywhere near finished. But it's going to be beautiful, and that's what keeps me going. Everyone else just loves me... how sweet is that? Reni is planning a wonderful dinner and I've been told that there might even be cake! :-)
Yesterday John, his dad, and Ethan went to Ace Hardware to pick up some supplies and when they came back Ethan said "Mom, we got you something for your birthday." I was assuming that it was supplies for the window boxes that they were making me (which is exactly what I wanted for my birthday) but they pulled two wooden adirondak chairs off the truck. I have been looking for outdoor chairs to go with my new and beutiful outside color scheme and flower garden! I couldn't believe it. Now they have to be painted! I will give you pictures when it is all completed!
What a fine birthday this is turning out to be! By the way, I have a new hairstyle for my new year of life. Nothing quite as exciting as the "ragfro" (thanks for the term, Aaron - tell Isaiah Happy Birthday from me too) but just the thing that I needed. Oh, and I also wear reading glasses now. Hmmmm.
This is the best I could do with my webcam this morning!