Day One Complete!
For those of you who haven't checked the blog since yesterday, be advised that this is the fourth "going to school" post since last night. If you want to get the whole thing chronologically, scroll down to last night's post first. I've tried to give you the entire event, blow by blow!
Mrs. Stevens walking Ethan to the car!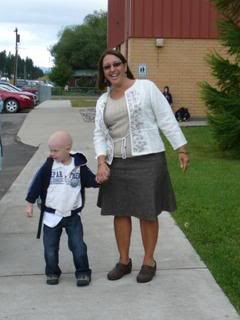 Our big boy has completed his first day of school!
I asked Ethan what school was like. (Thinking "good," "bad," "scary," "exciting...") He heard "what was school
like
?" His answer: "It was
like
hitting your head against a wall." So I asked if that was a good thing (because, seriously, with Ethan you never know.) His reply: "Oh yeah!"