First Day of School!!
Ethan woke up on his own this morning after a great night's sleep! I have done a terrible job of getting his sleeping on track for the school year. He's been up so late all summer! But Ethan has this uncanny ability to always sleep 11 hours. It doesn't matter if he goes to bed at 8 or 11. He will sleep for 11 hours from the point of falling asleep. So I actually got him down at 8:11 p.m. I think he was asleep by 8:30. That was a miracle! I was hoping that Ethan would wake up naturally - it's always harder to start the day when someone has to wake you up earlier than you want. Sure enough, at 7:15 a.m., Ethan wandered out of his room ready to start the day.
First things first... snuggles with Daddy!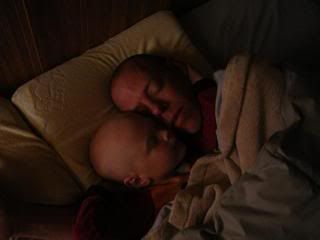 He had a nice big breakfast of cheerios and half a banana.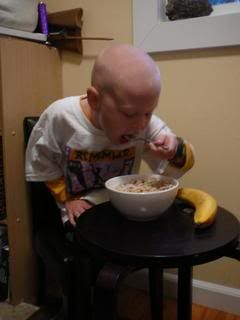 Photo op - the backpack was way too heavy (laden as it was with all of his school supplies) to really carry, but he put it on for the photo. Ethan picked out his clothes for today. He wanted to wear his cancer relay T-shirt. I think it makes him feel closer to Ellie on this special day. She would have been soooo proud of him today!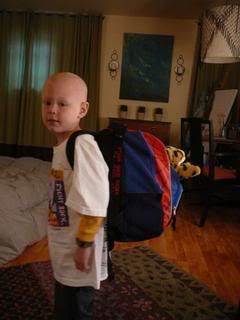 Finally at school! (Daddy did say "smile")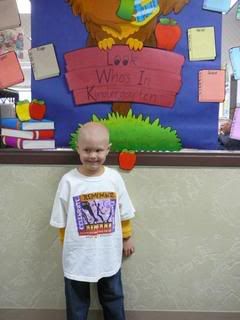 The nice, and extremely tall, Principal Mr. Loyda. (We were sitting in the front row of the bleachers and John was trying to take pictures without being noticed, thus the strange angle. But even at a normal angle, Mr. Loyda really is tall - I think I overheard him tell someone he's 6'7") To the right of Mr. Loyda is Mrs. Stevens - Ethan's teacher!
John caught Ellie's friend, Bailey (who is on her first day of 4th. grade) in the bleachers! We also saw her brother, Codey waving at us on the other side of the bleachers. (We got in a quick hug with their mom, Jen, before things got started! It is so nice to have people around that we know and love - sure makes the first day in a new school that much less scary.)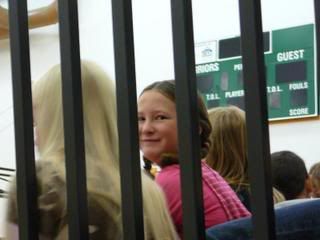 In the classroom: (The boy across the table from Ethan is also from Florida.)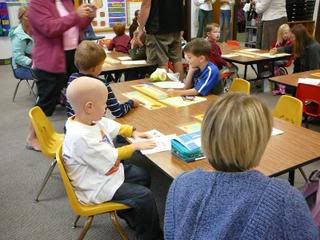 This is the little girl who sits directly across from Ethan. Her name is Elly. Here she is with her sweet mom, Jamie. When I met Jamie a few months ago, I commented on her daughter's name and started to tell her a little bit about Ellie. As soon as she realized who I was, Jamie's eyes filled up and she said "oh, I've been following your blog for a while now!" Today I pointed out Elly's name to Ethan and he said "she kinda reminds me of Ellie."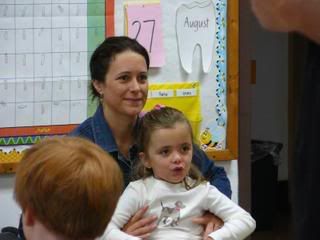 This is another new friend of mine, Christina. Her son Archie is in the class with Ethan.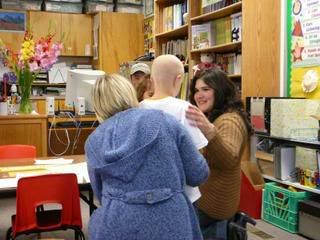 Ethan and Daddy in their matching shirts! Ethan did not leave one detail of this day to chance! (Except maybe my wardrobe choices - he had no say over that!)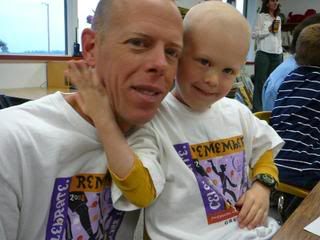 Stay tuned for more! We will be picking Ethan up soon and I will post more pictures and tell you all his thoughts and impressions of his first day of school. Kindergarten is only for three hours on Mon. - Fri. I think that it will be the perfect start for him. Since Ethan didn't go to pre-school, I think going to Kindergarten all day would have been pretty difficult. I love this schedule!