John is 39 years old today!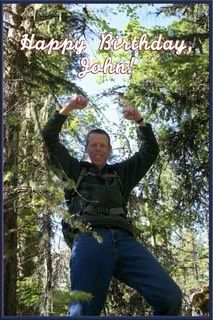 As a special treat, I have included a playlist of a few of John's favorite songs. The first song by Flyleaf is the ringtone on my cell phone for when John is calling me. The ringtone begins with the chorus "I'm alive!" and nearly scares me to death every time John calls me. But it is rather comical sometimes. The day that John and Ethan were on their big hike, Loretta, Reni and I were sitting around wondering when we should start to worry about them. It got later and later, then suddenly my phone started blaring "I'M ALIVE!!!" and we all burst out laughing.
"Beauty from Pain" is a song that has meant so much to John ever since he knew that Ellie was dying. We often still listen to it with tears.
Shawn McDonald's "Free" also makes John think of Ellie. John's cousin, Nick put a video of John and Ellie riding a motorcylce to that song. I really want to find a way to get that video on the blog, but just haven't done it yet.
"Keep Breathing" is a song that we saw on Youtube with photos of children with NB. That video is a tearjerker. Both of us love this song because that's what some days are like - you consider it a success if you manage to just keep breathing.
I'm sure that there are so many more songs that John would put on this playlist, but he's out hiking today (of course) and I'm doing this blog entry as a surprise for him. :-)
The playlist should work if you click "pop-out player" and then click where it tells you to launch standalone player. I hope it works for you! Then keep scrolling down to the next entry for some pictures of John!
data="http://www.myplaylist.org/mc/mp3player-othersite.swf?config=http://www.myplaylist.org/mc/config/config_black.xml&mywidth=435&myheight=270&playlist_url=http://www.myplaylist.org/loadplaylist.php?playlist=46766534">
value="http://www.myplaylist.org/mc/mp3player-othersite.swf?config=http://www.myplaylist.org/mc/config/config_black.xml&mywidth=435&myheight=270&playlist_url=http://www.myplaylist.org/loadplaylist.php?playlist=46766534">