An Extra Special Ballet for Ellie
Thursday night we were able to go with Ellie to a ballet! We have friends who have two teenage daughters who are exquisite ballerinas. For several years we have attended their ballets - it has become somthing of a tradition. This year, their company invited Ellie (and her family) to a private showing of "The Nutcracker". We were able to attend their dress rehearsal, as the only ones in the audience! It was WONDERFUL! We didn't have to worry about being with a bunch of other people (and their germs) or expose anyone else to Ellie's chickenpox. And as we watched, it felt like all of these amazing dancers were dancing their hearts out just for Ellie. Ellie had been looking forward to it for several weeks, and as the date got closer we were afraid that she would miss it, but everything came together perfectly.
The Ballerinas:
Lindsey Bell, Lauren Bell, and Friend (I'm so sorry, I don't know her name)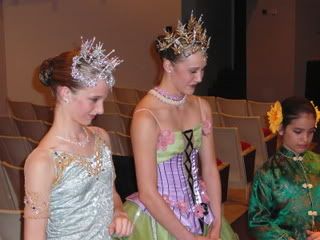 The Ballerinas with their biggest fan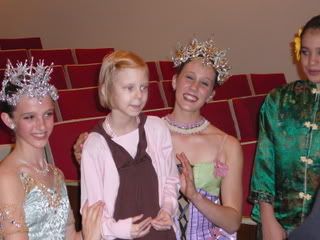 Ellie and Santa
Ethan and Santa
Our Family....and Santa!